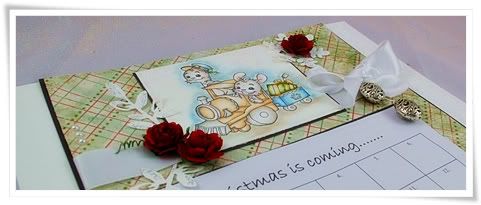 How are you doing on your Christmas preparations?
I have already started, but then I like to get an early start, and I enjoy every single thing to do
for this Holiday. I love Christmas!
Today I am showing you my Christmas planner...
Very easy to make, so there are no tutorial... just for inspirations... :o)
I made a scheme with 24 squares in word, and printed it on regular white paper.
(Only 24 squares, because we celebrate Christmas on the 24th here in Norway.)
The base is a 12" x 12" white Bazill, that I decorated with pattern papers, die cuts, roses and large Christmas beades....and of course glued the calendar and the image to it.
When I first saw this adorable image;
I immediately thought "Christmas is coming...."
And then the idea for the Christmas planner was born.... lol....
Here it is;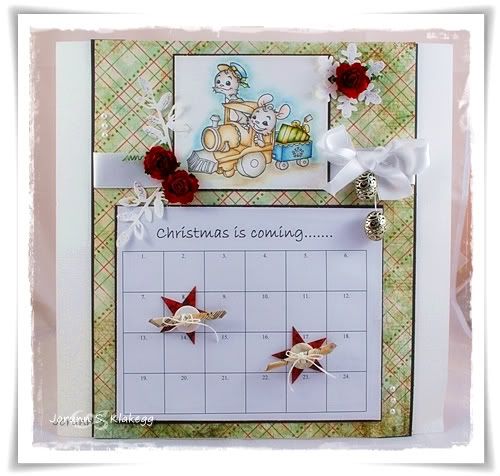 I am planning to write in different activities and to do things in the dates, as I plan them....
But it could also be used as an advent calendar, counting down for Christmas...
I have decorated some of the squares with stars, buttons and a rolled up pattern paper,
with a poem or saying inside...
It could also have been a cookie recipe, or something personal for your special someone... ;o)
The beautiful leafs, and snow flake, behind the red roses,
If you make your own Christmas planner, I would love to see it,
so please leave a link to it here...
Have a great Christmas preparation-time!