Hi there, are you getting back to your scrapping tables after the summer vacation?
I know I am, and today I would like to give you some ideas about
making the insides of your cards.
I love it when the card does not stop in the front, but continues on the inside as well,
for the matching inside:
Here is what you need: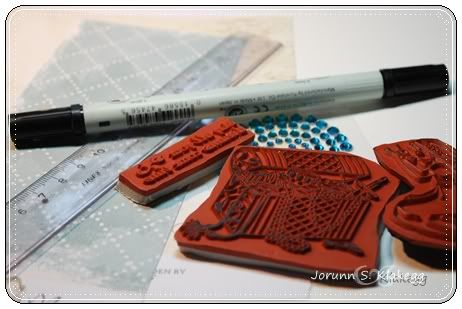 * Pattern papers
* Card stock
* Stamps that matches the front
* Ruler
* Marker or Pen (I use the zig writer)
* Other embellishments of your taste
****
Here is my card all done in the front,
and now I am ready to start working on the inside: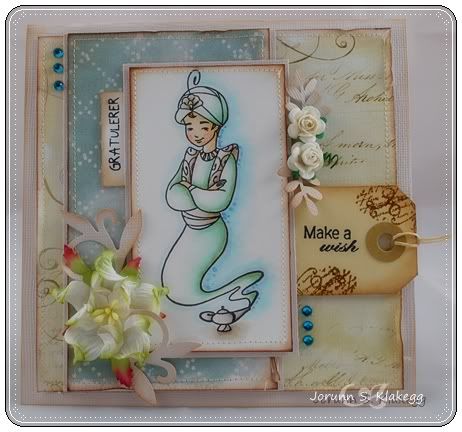 The image is from
Whiff of Joy's store stamp kit
I start with making a similar lay out with the same pattern papers
as I have on the front:
Next is the card stock;
Stamp the image on the corner of the card stock, leaving room to write a greeting.
The image is also from the same kit, and matches the theme on the front perfectly
The image is now colored in, and I use my ruler and my zig writer to make a solid line
around the rest of the card stock. starting and ending around the image.
I usually make my line about 0,5 cm from the edge of the card stock.
Now glue the card stock on the pattern papers, I added some gemstones
in the left corner, and also some glitter glue on the treasure in the chest.
...and voilà my inside is all done:
I also mentioned the miniature stamps are perfect for the insides,
and here is another card where I used an accessories stamp on the front,
and a miniature stamp on the inside:
The front:
Image from the Stamp kit
The inside:
I hope you liked my ideas for the inside.
Have a wonderful day!